Online course on sewing barefoot ballerinas 
 I am planning the next run of the course with my support in a special Facebook group in the spring 2024.
Is it hard for you to get hold of well-fitting ballerinas?
Not anymore. Now you'll be able to make yourself ballerinas exactly to measure. Not only will they fit you well, but you can also choose the color and decorate them to your liking thanks to the online barefoot ballerina sewing course. You can benefit from 2 years of access to the videos in the member section and more than 2 months of my support in a special Facebook group.
In this online course, you will learn:
your ballerinas will be made to measure
your shoes will fit you perfectly
you will learn to adjust the template for any feet, child´s, or adult
to cut and punch the leather
to hand dye the leather (optional)
to bond the leather and soles
to use the basic tools and processes
I will be offering you the complete ballerina shoe sewing course
for an advantageous price of
129 € / $141 / £112
And how does this online course actually work?
The course is in the form of video lectures arranged in the member section - in the videos, I will show you the step-by-step process from cutting to sewing. The videos are short and factual. They are available for you right after purchasing the course.
With my support in the Facebook group - you're not alone in this. I'm available in the Facebook group throughout your shoe-making process to give you feedback on your steps and answer your questions. This is how you won't get stuck anywhere while sewing your barefoot shoes and you will finish them.
You'll tailor it to your time - unlike full weekend live courses, online courses are divided into shorter lessons, so you can make it even with small children or if you have a lot of work. It's up to you whether you sew all day Saturday or just for an hour a day after work or when the kids are asleep. You will have 2 years of access to all the videos in the member section and to the content of the Facebook group. After 2 years you will be able to prolong your access.
Suitable for beginners - you can do it even if you've never done anything like this before. The videos are made easy so that everyone can understand them. We sew the shoes by hand, you don't need a sewing machine or other specialized equipment.
You will also learn how to make shoes for your loved ones - you will not only sew shoes for yourself, but you will also learn how to adapt the fit to other adults´ or child´s feet.
What could your new ballerinas look like?
These are photos of ballerina shoes sewn by my clients on my online courses.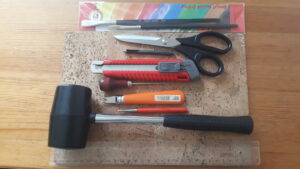 Basic hand tools
and material for one pair of shoes. And 2 hands ready for work. That's all. You don't need a sewing machine or specialized equipment. You can download the list of everything you need below. I am also adding a list with direct links to recommended materials and tools. If you are interested, you can order a kit with all the tools and materials for one pair of shoes from me. The price of a complete kit is around 75 € (without postage - that depends on the country you are from). I send kits from the Czech Republic). You will get more information about the kit in your e-mail after ordering the course.
Testimonials from the last shoe-sewing course
Karolina is a fabulous teacher. Her videos and experience in shoe making are supported by the Facebook group that goes with the course and where course members can ask any questions that come up in the process. She's very responsive and will help you within a short period of time. On top of that the course members will show their progress and guide and support you along. I recommend it!
As a student of the first course I want to say - I recommend it so much!!! Karolina is a wonderful teacher who really knows very well what she is teaching, and this is why she can help you with anything that comes up. And you do not learn only to sew shoes, you learn to dye leather, work with leather, and the big major thing that worth it all by itself: you learn to make a pattern. That means you can make shoes to anyone! I am so happy I participated in this course. It is proffessional and fun. Thank you 🙏❤️
I'm glad I managed to be of help. I wasn't going to give away my profession as a cobbler to start with because I didn't want to distract from the lessons, but, when I saw that materials weren't that easy to obtain for everyone I felt it would be best to confess and try to help! Thank you so much for running this course Karolina. I feel like I have filled in the missing link for my skill set 😊
Thanks to everyone's contributions. It's been much more workshop than I thought possible online, sharing mistakes and learning as well as progress. I also think we've worked you hard, Karolina. Thank you.
Who will guide you through the course?
My name is Karolina Castkova. I am a medical doctor, wife and mother of 4 children. Since 2017 I have been teaching barefoot shoe sewing courses and I have studied the impact of barefoot walking on our health. I sew shoes for my whole family so we all have feet in comfort. I'd love to teach you how to do it too.
and experience the feeling of wearing your hand-sewn ballerinas  for 
Do you want to ask me something?
Write me an e-mail to karolina@diybarefootshoes.com
I will be happy to help you.